What will happen to the price policy of BTC in the coming year? For example, stocks or bonds are affected by economic factors such as inflation, unemployment, or interest rates, but this is not the case for cryptocurrencies, because they are completely independent.
Analytical analysis of the future price movement of Bitcoin
But what really drives the price of Bitcoin? Not having any financial binding, not being provided with any asset, BTC is gaining more and more value and popularity today. The price of an asset is most affected by three main factors:
We have analyzed these three factors and will try to explain in detail why the cost of the military-technical complex is growing. What makes bitcoin so special that investors view It as an investment option?
Bitcoin is the first launched coin that continues to be the leader among cryptocurrencies. The crypto asset has seen growth of 9000000% in recent years, and was chosen as the best investment of the decade, ahead of competitors such as stocks, bonds, gold and indices.
Throughout its history, bitcoin has risen and fallen as its nature is volatile. However, in the first years of its existence, the asset had no value but over time its value increased, making the first investors millionaires and even billionaires. The price of bitcoin is expected to continue to rise, so It is a good investment option.
Bitcoin leads the cryptocurrency market capitalization with $ 356 billion.

The market capitalization of Bitcoin
So what is driving the Bitcoin price? There are currently 18,564,614 coins, and the maximum number of coins that will ever exist is 21 million. Halving the block reward affects the value of the bullion, creating so-called "artificial inflation", but at the moment when 21 million BTC is mined, there will be no more mining. Therefore, mining will not affect the price of Bitcoins. However, the last crypto asset is expected to be mined in 2140.
But let's see what really affects the price of a crypto asset? Or what drives the BTC?
3 factors that are to determine the BTC price in 2021
Bitcoin correlates with other cryptocurrencies, such as Ethereum. When two assets relate to each other, they move the same way.
Cryptocurrencies are usually correlated with each other. This is why investors have started to view them all as a shared asset.
Moreover, everything has come a long way in cryptocurrency, and there is no need to have a separate wallet for each cryptocurrency, and you can store your coins in one wallet, such as eToro, Binance, Kraken, etc.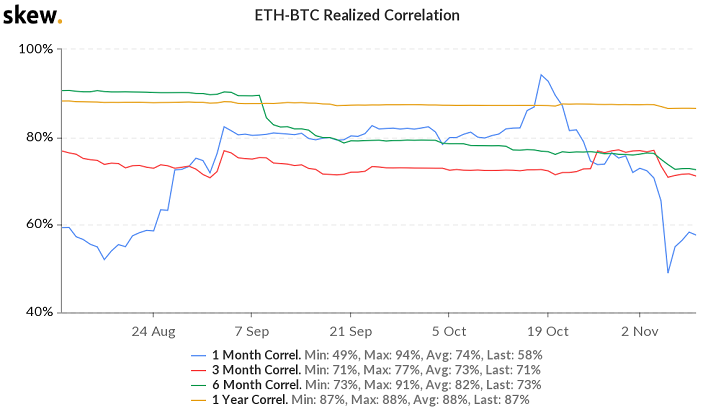 The implemented correlation of Ethereum-Bitcoin for 1 year is 88% on average.
The greater the demand for cryptocurrency, the higher the price. This is the basic rule of Economics. There are few bitcoins, which means that it is rare and in demand. And it's very useful, which makes it valuable.
Usually, when there is sensational news about cryptocurrencies, their value increases. People may have uncertainty about the future of Bitcoin. Therefore, the adoption of BTC is crucial for building trust among people.
Accepting crypto gives people confidence, because when they see major financial companies investing in Bitcoin, it becomes clear that the future of the crypto asset is secure. Thus, demand is growing and prices are rising.
And 2020 confirmed this fact, as this year major financial companies invested in BTC, causing it to soar in price.
MicroStrategy has invested $ 425 million in Bitcoin. Square also invested $ 50 million, and then Stone Ridge invested $ 115 million.
But the most significant impact on the price of Bitcoin in 2020 was the news that Paypal integrated cryptocurrencies into Its platform on October 21. After the announcement, the Bitcoin price reached $ 12,817. 17, up 8% on the day. This was the highest cost since July 2019.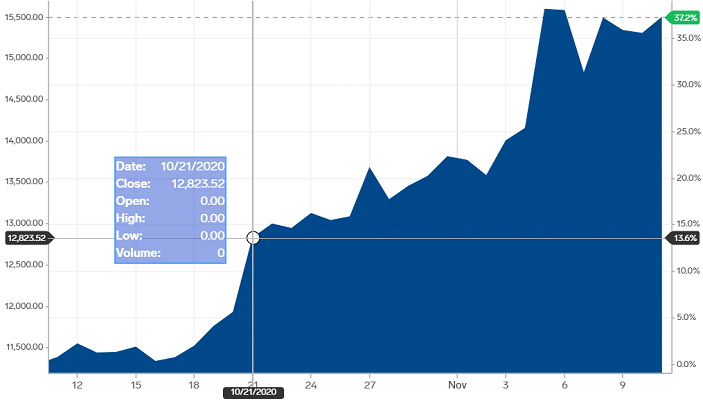 BTC cost chart
However, Bitcoin did not stop there, continuing to grow and reaching $ 19,780 at the end of November, and at the moment it is $ 19,202.
So, the news that Paypal is integrating cryptocurrencies into its platform has dramatically increased the price of Bitcoin, and now no one knows exactly where it will stop.
"All banks will now be in the race to service cryptocurrencies", billionaire investor Mike Novogratz said on Twitter, calling it the biggest news of the year in cryptocurrency.
Bitcoin is regulated differently in different countries. In the United States, the United States commodity futures trading Commission (CFTC) recognizes Bitcoin as a commodity. By comparison, the securities and exchange Commission (SEC) lists cryptocurrencies as securities. This volatility of Bitcoin regulation creates uncertainty.
This may affect the price of Bitcoin, as it will increase people's insecurity due to the fact that cryptocurrencies are not regulated in the same way, and in some countries they are completely banned because they are considered suspicious.
The regulatory uncertainty makes investors think about how they will be taxed after selling their cryptocurrency, or make them HODL, or they will be completely withdrawn and not invest at all. This causes a bear market.
For example, in December 2017, the South Korean authorities decided to regulate crypto assets, which led to a 15% drop in the value of PTS, and significant losses in market capitalization for Ethereum, Litecoin and Ripple.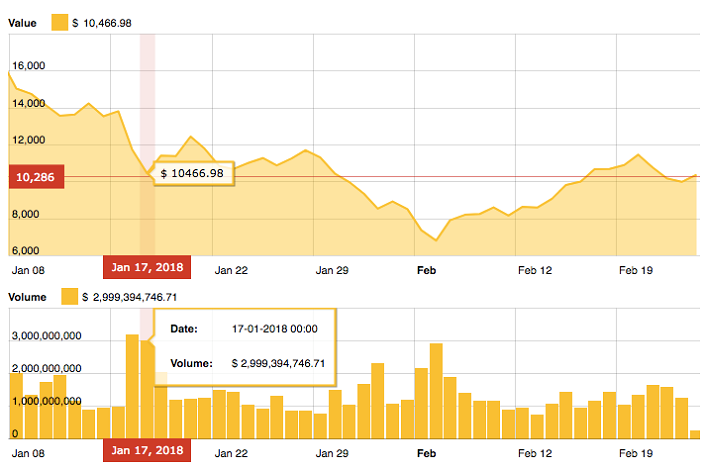 Prices on the cryptocurrency market cap falling in January 2018, on the background of regulatory requirements in South Korea
However, there are cases when the regulation and legalization of cryptocurrencies affect them forever. For example, when in 2017, Japan announced that Bitcoin would be legalized as a payment method, and the price increased by 96%, which made the Cue ball attractive as an investment for Asians.
Investing and BTC in 2021
Given that Bitcoin adoption is on the rise, the price of the crypto coin is likely to continue to rise in 2021. After integrating large companies like Paypal into cryptocurrencies, other financial institutions and banks are expected to join the crypto industry as they will have no choice but to accept. Consequently, demand will continue to grow along with the price of Bitcoin.
But how much can Bitcoin fall in 2021?
"Bitcoin will spend 100-288 thousand dollars until December 2021, "Plan B, the creator of the stock-to-flow model, said recently. According to him, over time, the supply of bitcoin assets will fall, and inflation will increase, therefore, BTC will only grow in price.
Also, why do experts predict 100,000-288,000 dollars per coin by December 2021?
Well, let's go back to 2016, when the bitcoin reward was halved.
In July 2016, when the halving occurred, Bitcoin totaled $ 600 to reach a record $ 20,000 just 17 months later, in December 2017.
The last halving of BTC occurred in may 2020, which was the third in the history of Bitcoin. At that time, the cost was $ 8,700, and within six months it rose to $ 15,500, which means an increase of 78%.
Given how the market reacted to the halving in 2016, with a combination of criteria such as Bitcoin acceptance, increasing demand, and decreasing supply over time, Plan B may be right, and we may see Bitcoin reach a value somewhere between $ 100K and $ 288K by December 2021.
And if Bitcoin reaches $ 100,000, its market capitalization will be about $ 2 trillion.
If the above expectations are correct, bitcoin investors will make significant profits in the future. But if the global economy is hit hard, the value of Bitcoin will definitely fall.
Bitcoin price forecast
The Crypto Research Report in its June issue predicted that Bitcoin will grow to $ 1,944 in 2020, to $ 341,000 in 2025, and to $ 397,727 in 2030.

Price forecasts for bitcoin, Ethereum, Litecoin, Bitcoin Cash and Stellar according to the Crypto Research Report
The Crypto Research team notes in the report that they believe Bitcoin is still at the very beginning of its adoption curve.
"The price of $ 7,200 at the end of 2019 suggests that Bitcoin has penetrated less than 0.44% of the total number of available markets. If this penetration reaches 10%, the price should reach almost $ 400,000", the report says.