Where will the Litecoin price go in 2021? What will happen to the coin next? Since crypto assets are decentralized, investors have always wondered: what drives the price of Litecoin.
Analytical analysis of the future price movement of Litecoin
Cryptocurrency has taken the world by storm, and the world of investment has gone crazy. In some ways, the investment world is still in a bit of a tailspin, due to the uniqueness of cryptocurrencies. This is not at all like traditional investments, stocks, or commodities. This is something that investors have not seen before.
The stunning world of cryptocurrency investment is not for the faint of heart. Litecoin, also called the "Lite version of Bitcoin", has been the dominant cryptocurrency since its creation in 2011 by founder Charlie Lee.
But what really drives the price of Litecoin? The value of a coin is most affected by four main factors:
Performance of competing coins
Unprecedented problems accompanying COVID-19
Litecoin is called silver, in relation to gold-Bitcoin, and it was developed to improve efficiency in terms of transaction time and is more accessible than Bitcoin. This is a cheaper, faster, and more efficient version of the BTC.
Initially, cryptocurrencies were a mean of saving but Litecoin changed this point of view, being a means of exchange. Low transaction fees, simplicity, and lightning-fast speed (two and a half minutes per block generation) have made it a popular choice as a "transaction cryptocurrency".
LTC is one of the oldest cryptocurrencies and has been one of the top ten most effective cryptocurrencies for most of its life, currently ranked 5th by market capitalization with a market capitalization of $ 5.59 billion.
At the beginning of 2020, Litecoin led the market and was one of the most effective cryptocurrencies, which puzzled investors as the market was in some uncertainty due to COVID-19. From April to October, Litecoin was not so good, but It quickly gained momentum back in November, and has continued to grow since then. In November, it also moved from 9th place to 8th, and then to 5th place.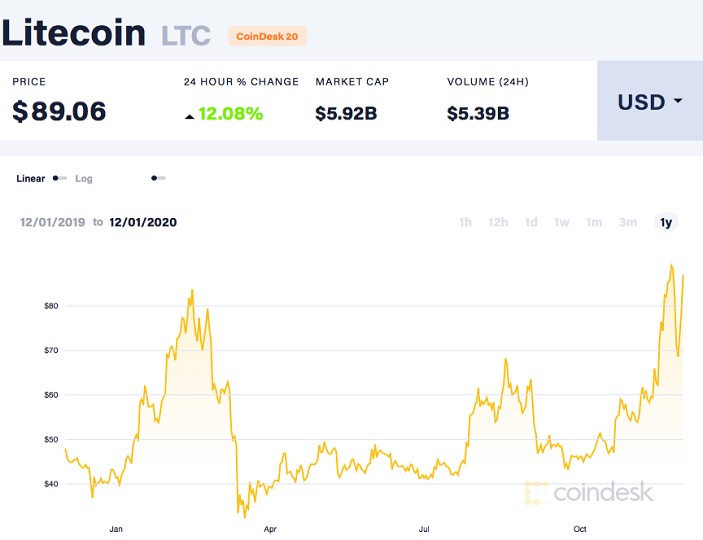 The forces moving the price
Now the question arises: what drives the price of a crypto asset?
Litecoin grew until 2016, peaking at around $ 330. But it didn't last long. The crypto asset has seen some of the worst bear markets, with a low of $ 3.
However, it has been steadily growing since then. Some forecasts of its future are encouraging, while others are not. COVID-19 has brought with it unprecedented challenges, issues that have rocked both traditional investments and cryptocurrency investments.
Short answer to this question: the demand for Litecoin is what determines Its value.
But it's not that simple. Prices are determined in the market when demand matches supply. But this is the case with ordinary goods. There is nothing ordinary about cryptocurrency, just like its price.
While supply is usually the defining feature, demand is the main factor that plays a crucial role in determining the value of Litecoin. Unlike other currencies, the supply of the asset is fixed. The Litecoin offer cannot increase beyond 84 million coins. Therefore, the market economy does not allow us to determine the prices of cryptocurrencies, since the supply cannot be changed to adjust prices, and prices are determined solely by demand.
In fact, the volume of trade determines demand. A large volume of LTC sold causes a decline, and a large volume of purchases causes price spikes. Founder Charlie Lee himself triggered a bear market trend when he decided to sell his Litecoins at an all-time high.
Cryptocurrency prices are just a reflection of their current demand, but various demand factors play a role that ultimately determine the price.
As we have already said, four factors affect the price of LTC:
Performance of competing coins
An important factor determining the price of this asset is the quantity, quality, and prices of competing cryptocurrencies. If you go deeper into this, it is because competing cryptocurrencies also affect the demand for LTC. If another coin gains momentum, investors choose it, which will negatively affect the demand for Litecoin. In the end, it all comes down to the demand for Litecoin.
Bitcoin is a name that comes to mind when you think of cryptocurrencies. As the original cryptocurrency, as well as the dominant one, it plays a vital role in the demand for other cryptocurrencies. Litecoin is also very closely related to the cue Ball because of its similar construction, and therefore it gets extra value because of this Association.
Bitcoin and Litcoin have a very strong positive correlation of 0.83, which, from a layman's point of view, means that LTC prices are highly dependent on the value of BTC. And since we are well aware of the strong position of BTC, it is unlikely that the price of Litecoin will affect Bitcoin, but the price of BTC on LTC – significantly.
The prices of Bitcoin and other cryptocurrencies are by far the most significant factor affecting the value of LTC. Some analysts estimate that the share of the Bitcoin price in determining the Litecoin price is 68%, which leaves only 32% for other factors.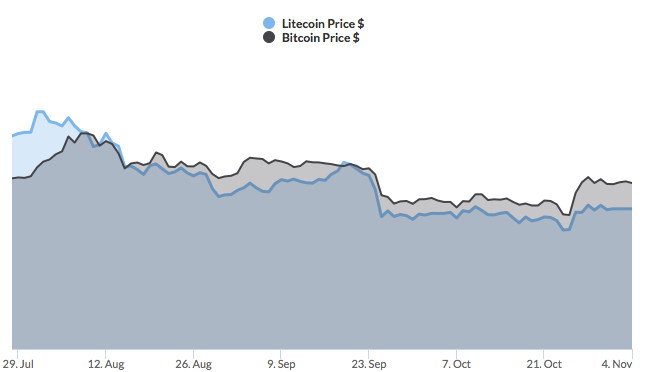 Wider acceptance
Charlie Lee created Litecoin with the goal of making It a medium of exchange. Generating a block of Bitcoin can take up to 10 minutes, and currently one BTC is valued at $ 18,980. Consequently, Bitcoin does not exactly encourage transactions, but rather serves its original purpose of being a means of saving.
As the world moves towards digitalization, the adoption of Litecoin as a digital currency is gradually increasing. More and more sellers are switching to this altcoin for regular transactions.
Sellers called it the "cryptocurrency of payments" because of its high level of practicality. Simplicity, speed, and cost-effectiveness of transactions have become a popular choice among merchants. Transaction fees are not only low,but also gradually decreased in 2019, which all the more encouraged sellers to choose it.
As more and more people accept Litecoin as a digital currency, Its value will continue to grow. Charlie Lee and the Litecoin Foundation are playing an active role in making the asset increasingly practical.
Risk appetite
Investments, in general, are not for the timid and shy. It requires savvy and intelligence to take risks. When it comes to cryptocurrencies, the risks and volatility of return on investment have increased dramatically. Cryptocurrencies are now considered high-risk and high-volatility investments.
Litecoin, in particular, was considered a riskier cryptocurrency compared to other top-10 cryptocurrencies, as it has seen huge UPS and downs in the past. Equity, current income, and investors ' expectations for the future are some of the factors that determine their risk appetite.
In light of COVID-19, risk appetite may have declined globally. The unemployment rate has risen to record levels, and people are struggling to meet their daily needs. Consequently, investors may not want to take many risks.
These factors, although they are the main ones, do not reflect the full picture. Measuring the demand for anything, let alone cryptocurrency, is not an easy task, since there are many factors that play a crucial role. The investor's view of the future, even if it is wrong, plays a vital role.
High-level support and good media coverage influence investors ' perceptions and, in turn, their decisions. Prices are also strongly affected by the"hype". The more people are optimistic about Litecoin, the more demand will grow.
Unprecedented problems accompanying COVID-19
Most of us have learned to live with COVID-19 and the unique challenges it has brought with it. Those of us who didn't do it will soon do it. After all, we are human beings, and we are made to adapt.
Investing in cryptocurrency is a high-risk, high-reward system. The market is very volatile. The reality of COVID-19, and the volatility is off the scale. We do not have indicators that can determine or even predict the price of cryptocurrencies. The ones we have are wrong.
Global markets are down and investors are confused. Over the past couple of months, we have seen a lot of bearish and bullish trends. With this level of uncertainty, investors may want to stay safe instead of taking on high risks.
Is Litecoin a good investment?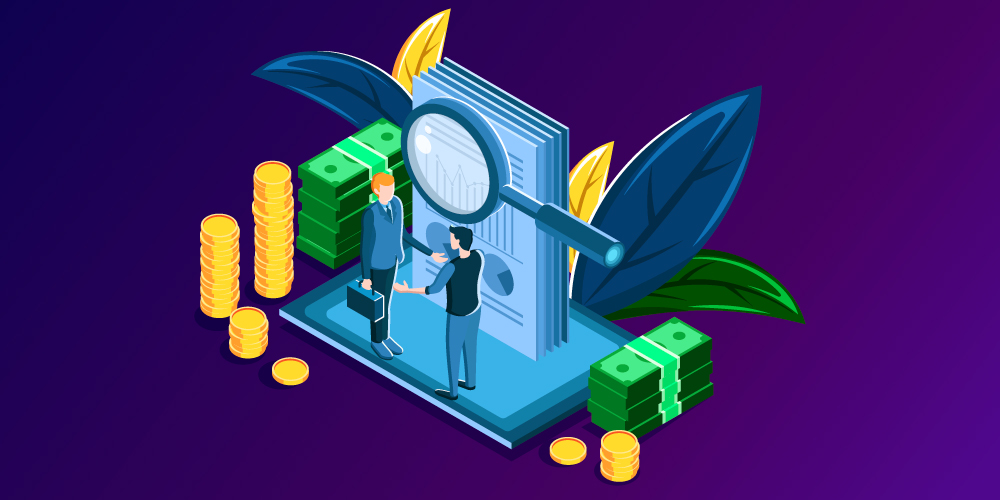 Investing in Litecoin or any other asset can be very risky if you don't know what you're doing. You may ask yourself, " Should I buy Litecoin right now?» So here's a hint: investing capital doesn't have to be difficult.
Being one of the oldest cryptocurrencies, it has proven itself. Investors are generally optimistic about its future. The reputation it maintains by remaining in the top ten cryptocurrencies since its creation does not go unnoticed by investors.
In 2019, it surpassed Bitcoin and became one of the three most effective crypto assets. Beating the BTC is a feat that undoubtedly drew attention to it.
The forecasts and estimates of leading investors are encouraging. Crypto Research Report Group, a well-established research company in the field of crypto, gave particularly encouraging forecasts in its report. According to the group, Litecoin could reach $ 1,200 in 2025, and a whopping $ 2,250 in 2030.
Dan Gambardello, founder of Crypto Capital Venture, announced to investors that they expect a bullish market trend for all cryptocurrencies, with a particular focus on Bitcoin and Litecoin. Gambardello stated: "Litecoin consolidated at around $ 70 before a massive jump to over $ 1,000."
The forecast figures below show some of the possible highs and lows of asset prices for 2021, 2022, 2023, and 2025+ suggested by technical analysts and industry experts.
The Year Maximum Minimum
2021 160 $ 35 $
2022 320 170
2023 2500 350
2025+ 8000 650
Summarize
In the end, you can find many guarantees of value growth, but it all depends on you. What kind of investor do you want to be? Find out the answer to this question and you will definitely find out if Litecoin is a good investment!